Soft serve ice cream is softer than regular ice-cream because of the air which is introduced during the freezing and making process.
In the past, if you wanted soft serve, you had to visit a store or restaurant, or maybe even go on a cruise (we frequented the soft serve machine a little too much there).
But now, you can have delicious soft serve ic cream right in your own home.
The Best Tabletop Soft Serve Ice Cream Machine for a Small Group
If you want soft serve ice cream for your family or a small group, the Cuisinart ICE-45 Mix It In Ice cream maker is a great choice.
The price makes it hard to beat, but with the low price (around $75), there are a few things to keep in mind.
The capacity really is for a small number of servings, and you need to freeze the for bowl at least 24 hours before use.
The upside is that it's fun. It's got the mix-it-in goodie compartments, and the machine is relatively small at about 10 x 8 x 17 inches.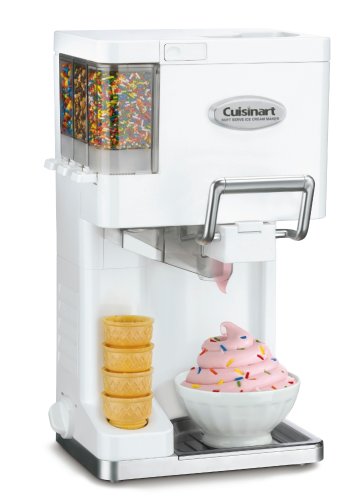 See the Cuisinart Soft Serve in Action in this video review:
This machine is great if you're wanting to make a few servings of soft serve ice-cream for your family or a very small gathering.
Check out the Cuisinart ICE-45 Mix It In Soft Serve on Amazon
The Best Tabletop Soft Serve Machine for Large Groups or Parties
If you're going to rent a soft serve ice cream machine for a large party or company gathering, consider how cool it would be to own a soft serve for those functions and rent it out when you're not using it!
That's where the more industrial soft serve ice cream machines come in.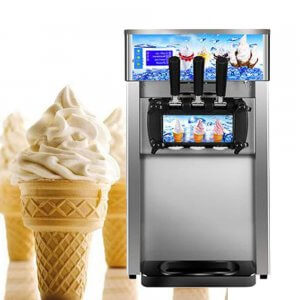 It measures 2.5 feet tall, 1.4 feet wide, and 1.8 feet deep and can produce an impressive 19 quarts of ice cream an hour.
The Vinmax is a great option if you've got a large group…or you just really like soft serve. 🙂
Check out our review of the Vinmax Soft Serve Ice Cream Maker