Exercise equipment doesn't have to be the bane of our existence. It can be fun!
Some exercise equipment makes only a good clothes rack.
But there's one that doesn't…
It's exercise equipment that we've used more than any other, and it's our rebounder. You can checkout out or original rebounder review here.
If you're looking for the rebounder (aka mini or exercise trampoline) that is the top in its category, you'll love the bellicon rebounder.
What is the bellicon rebounder?
Check out the bellicon in action:
What makes the bellicon rebounders stand out?
Precision German design and manufacturing
Formulated for low impact
More cords for greater stability and performance
Ultra-quiet rebounding especially when compared to the competition
Folding legs for easy storage (folding model only)
The great thing about the bellicon with folding legs is that it takes up way, way less space than conventional exercise equipment. The bellicon (with folding legs) can easily fit underneath a bed.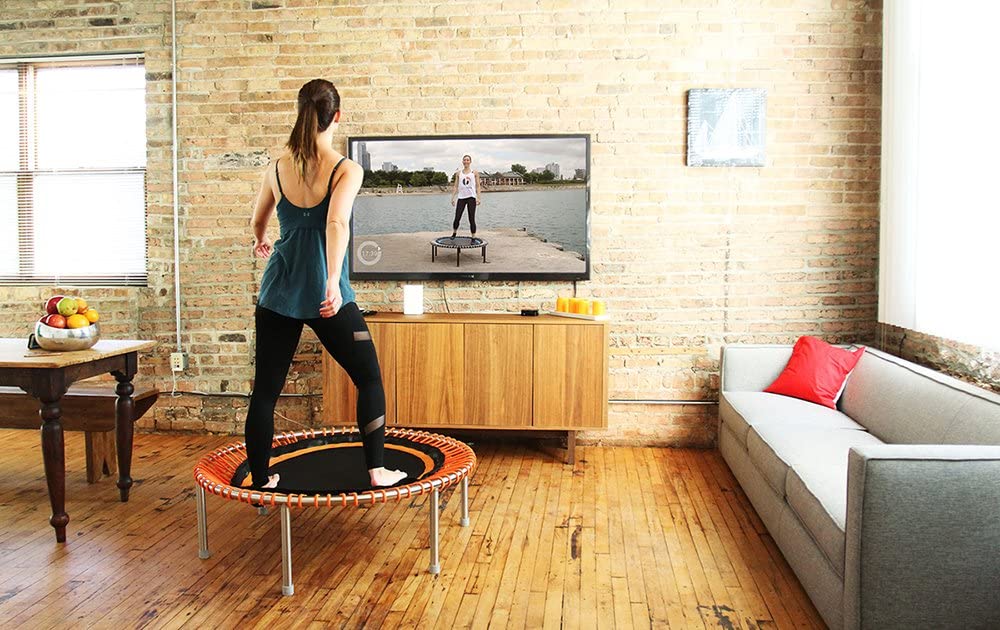 Watch out for Cheap Alternatives
Many rebounders try to match the bellicon but fall short and can even be dangerous.
With too hard of a bound surface, not enough support bands, cheap materials, noisy springs, the competing mini-trampolines can't even compete with the engineering behind rebounders by bellicon.
What type of legs to get for the bellicon (folding vs screw)?
The bellicon comes with the option for legs meant to be somewhat permanent (not bending or folding), or legs that fold.
The folding option is great if you plan on storing the bellicon away when not in use, making it great if space is tight or you simply want to roll it to the closet when done.
The other option is the bellicon with legs that don't fold. This option is great if you plan on keeping the bellicon out in the same spot.
Both options are great, but if space is an issue, the folding legs option is a great way to go.
Having fun with the bellicon
Since the bellicon is quiet, it's easy to exercise while listening to music, podcasts, or even watching TV. The portability means that you can even take it with you to fun events.
Blast into Fitness with a Rebounder
There are many well-documented as well as emerging health benefits of rebounding.
Just some of the many benefits include:
Better posture
Better mobility
Stimulates thyroid
Stimulates lymphatic system
Low impact
Better energy
Supporting immune system
Convenient (more chance of using when convenient)
Best Place to buy the bellicon?
For convenience and easy returns, it's hard to beat getting the bellicon on Amazon.
The bellicon sets the standard and stands heads and shoulders above cheap rebounders that can be dangerous to us.
Earning its premium, the bellicon offers the absolute best experience when rebounding.