How do you Avoid Buying a Bad Gelato Maker?
Find out below to avoid the number one mistake when purchasing a gelato maker.
First off, what is Gelato, and why Gelato should not be made in an ice cream maker?
Gelato is an Italian treat similar to ice cream, but different in very key points.
What makes Gelato Different than Ice Cream?
Ice Cream is made with…cream. Gelato reverses the mix and is made from milk thus having way less fat.
Gelato is more densely made while ice cream has air whipped into it, so a Gelato packs a more flavorful taste with each bite.
Gelato can be made without any cream or eggs.
Gelato doesn't have to be stored at such a cold temperature as ice cream so you can prevent freezing.
A Gelato Machine can make Gelato much more fresh than an ice cream machine.
Gelato can be easier to make.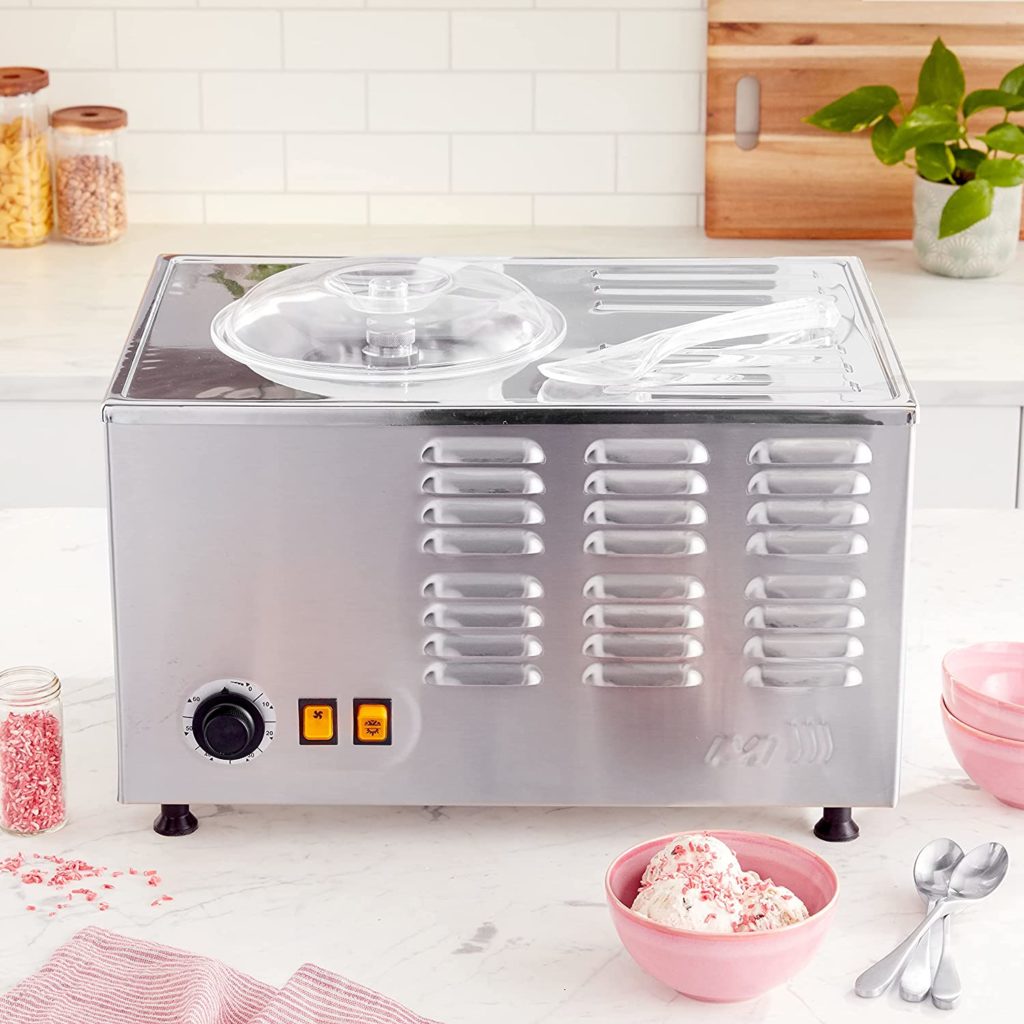 Things to Look for in a Great Gelato Machine
A quality Gelato Maker will make…well…quality Gelato.
It makes sense, but we sometimes go for the less expensive to save a few bucks, but in the long run, we end up kicking ourselves because we get stuck with something sub-par.
So with a Gelato Machine, look at the options out there, but remember that you get what you pay for.
If you get a quality Gelato Maker, you'll enjoy high-class Gelati (plural for Gelato) and use your Gelato machine over and over to make a quick and easy dessert.
So keep these things in mind when selecting a Gelato Machine:
1. A Self-Refrigerating Gelato Maker Makes a World of Difference
A self-refrigerating Gelato machine will refrigerate your Gelato as it slowly turns the mix to the right consistency. It's no fun to make a mix and then have to refrigerate it for hours before being able to use.
When you use a self-refrigerating Gelato machine, your Gelato can be ready to eat in 20-30 minutes, so you can set the machine going, sit down to eat dinner, and the dessert will be ready in no time.
The quick creation time means that it's an easy treat to whip up in a snap if you have some unexpected company that you want to impress but don't have much time available to you.
Some ice cream makers or recipes call for freezing your ice cream overnight, but with Gelato, you can be ready in 20 minutes. It's great!
2. A Machine Designed Especially for Gelato
Can you make Gelato with an ice cream maker…yes…but we're not talking about just making Gelato, we're talking about making Great Gelato, and to make great Gelato, use the tool that's made for making Gelato.
By using a Gelato machine, your Gelato will taste fresh, and be at the right temperature, and have the right consistency.
Part of the process of making ice cream is the inclusion of a lot of air into the mix.
Ice cream is fluff compared to a good Gelato that is more dense and flavorful.
A Gelato machine will create the right consistency and texture for your Gelato.
3. A Gelato Machine that is Quiet & Sturdy
You'll find as price goes up, so does the sweet sound of silence. The more expensive Gelato Makers are generally much more quiet and sturdy.
Quiet-ness (sorry, can't think of a better word right now) and sturdiness may or may not be an important point for you, but if you have company over and you want the machine working while the company is there during dinner, you'll appreciate a Gelato Maker that is much more quiet than the other types out there.
4. A Gelato Machine with Plenty of Capacity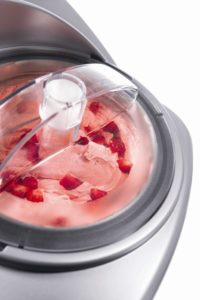 Again, as you go up in price, generally so does the capacity. You'll find that a 1.2 to 1.5 quart capacity for a Gelato maker is somewhat standard.
Although, there are some gems that have more than a quart capacity for a good price.
Regarding Machine size, think about how you'd like to use the machine. Some of the higher quality machines are actually more compact than their less expensive counterparts.
The smaller size means that you can more easily take the machine with you when visiting friends or family. Why would you do this? Taste the Gelati it can make, and then you'll know why.
The smaller machines tend to get used more often because they're easier to store, easier to get out and use rather than having to lug around a larger machine that you have trouble storing.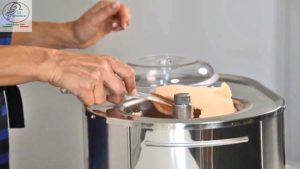 5. A Gelato Machine that is Italian Designed and Made
Gelato comes from Italy, and thus the Italians know Gelato the best.
A great Gelato machine comes from an Italian based company such as Lello or others.
As an added point, your Gelato maker will probably come with a recipe book, try the different recipes, but branch out and try some other flavor combinations.
You will probably find a lot of Italian recipes out there, but don't be afraid to make your own.
How do you avoid the number one mistake when purchasing a Gelato Machine?
That's an easy one, and hopefully, you've been able to spot it. The number one mistake when purchasing a Gelato Maker is to purchase an ice cream machine and try to make Gelato with it.
Think about it, if you want to clean your carpet, you use a vacuum, not our hard floor cleaner. They're both great tools, but each is made for a specific use and purpose. You can use our hard floor cleaner on the carpet, but it just isn't going to turn out right. The right tool gets the job done best.
Now there are some higher quality makers that try to do both, and the higher the price, the better the machine will be able to do both. Just consider that the more specialized the maker, the better it will be at what it does.
If there were a second part to the number one mistake, it would be buying a low quality Gelato Maker. A high quality Gelato Maker will make great Gelato, just check out the reviews on Amazon for backup on this one for the Gelato makers below.
Popular Models to Choose From
One of our favorites is the Lello Musso 4080 because of its sleek design, and its capacity is larger about 1.25 quarts, super-fast, 30-minutes-and-it's-ready time, and the fact that it is authentic, Italian Made.
The Italian Lello Machines – The Best Gelato Makers
The best option is to get a Gelato Maker that is designed for gelato, and no one knows gelato better than the Italians.
Lello makes two top of the line, industrial strength gelato makers.
The Lello 4080 Musso Lussino Gelato (and Ice-cream) Machine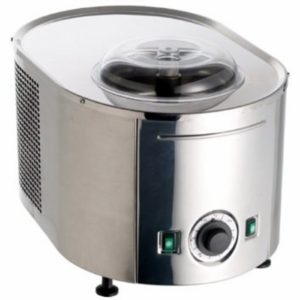 The Lello 4080 Musso Lussino is one of the best Gelato and Icre-cream Makers available (only superseded by the Lello 5030).
The Lello 4080 is heads and shoulders above the competition with:
A Large 1.5 quart capacity bowl
It can freeze 3 quarts of delicious ice-cream or gelato per hour (That's a lot)
Instead of being made from aluminum as other machines are, the Bowl, Housing, and paddle are made from tough stainless steel
Made in Italy it also includes a recipe book
The best place to get it is on Amazon for a steal just under $740 for something of this quality and Italian made.
Buy the Lello 4080 Musso Lussino Ice Cream and Gelato Machine on Amazon
The Gelato Maker that takes the Cake
The step up from the Lello 4080 Musso Lussino is the Lello Musso Pola 5030 Ice Cream & Gelato Maker.
The Lello Musso Pola 5030 surpasses all the rest with:
A whopping capacity of 2 quarts
Can make up to 6 quarts of ice cream, frozen yogurt, or gelato an hour
The stainless steel construction (blade, bowl, housing) will outlast other ice-cream and gelato makers made of less durable parts.
It's made in Italy just like its sister machine, the Lello 4080.
Italian made, Lello knows how to make the perfect Italian treat: gelato, and it also makes incredible ice-cream and sorbets.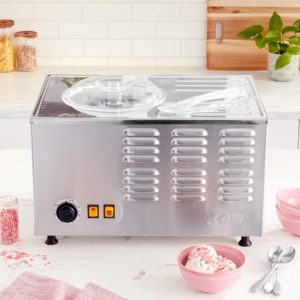 The best place to get it is with free shipping on Amazon: