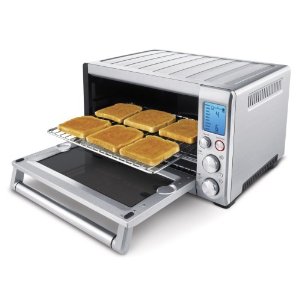 Having problems with your Breville toaster oven?
Don't worry; some of the "problems" are actually by design (you might call it a feature). Since it's a complicated machine, there's a lot that goes into these smart ovens (other than food that is).
In response to some common questions, Breville has posted some videos answers if you're having some problems or questions concerning your bov800xl toaster oven.
Although they can't address all the issues that might arise, these videos offer some quick tips for helping to make the most of the oven, cooking evenly, and making it last.
Worrying about the heating elements pulsing on and off?
If elements are pulsing on and off, it's normal according to the video. Watch to check out the answer.
Frozen function doesn't work with all the other options?
The frozen function doesn't work on all the presets. So if you've been frustrated that you can't get it to work on the other functions, don't worry, it's normal. The function works on Toast, Bagel, Pizza, and Cookie. see the video for more details:
Auto rack coming out too far?
If the auto rack is coming out too far, just open the door slowly.
Pretty simple solution.
Water is on the counter top after cooking?
If water is left after cooking (on your countertop), it's usually from condensation from the cooking process especially if if you're cooking frozen foods.
Steam coming out of the unit or front pain is fogging up?
If Steam is coming from the oven, it's probably from cooking frozen bread. He says it's normal in the video, but seems a little weird. I'd probably stick to cooking non-frozen breads.
Pizza cooking un-evenly?
It's unfortunate, but if the pizzas you have don't cook evenly, you need to rotate the pizza once during the cooking cycle.
It doesn't happen on all pizzas fortunately, but if the type you cook have this problem, just rotate when cooking but be careful not to burn yourself.
LCD screen not turning on?
The oven is probably in standby mode. Just press one of the buttons to take it out of standby mode.
Oven remembering last cooking settings, but you want to reset them?
If you want to reset the functions for cooking, just unplug the oven and keep it that way for a few minutes, then plug it back in.
Breville smart toaster oven not turning back on?
If you have the problem that your oven doesn't turn on, make sure it's plugged in (loved that suggestion), and if it is, unplug it and plug it back in listening for the beep. If no startup beep happens after plugging it back in, you might want to check a breaker in your electrical panel to see if the switch was thrown for some reason.
Tips for Breville Smart oven first use:
Here are some tips for using the oven for the first time:
Hand wash the accessories
Place the tray with the prongs or supports on top
The middle rack let
Slide in the crumb tray
Make sure there's about 4 inches
Run for 15 minutes without any food in there for the first time to clean out any particles from the manufacturing process
Toasting bread may create some condensation when cooking bread. That's normal according to Breville.
Check out the video for more details:
Those cover some of the questions, but probably not all of them.
To learn more about the Breville bov800xl smart toaster oven, view our Review of the Smart Oven.
Click the following to learn about other awesome products by Breville such as their world-class juicer and their gelato & ice cream maker.