Why The Smart Oven by Breville?
Once you get a Breville (whether a juicer, toaster, or other appliance), you know you've found quality and something that will last a long, long time.
The name is equated with quality and durability.
Why do I need a Convection Toaster Oven?
The Breville Smart Convection Toaster Oven
does everything from toasting, to baking cakes and cookies, to baking the perfect pizza, to roasting succulent meats.  All this in a counter-top appliance.
The convection option allows you to cook anything you would normally cook in your wall oven with fantastic results.
It's also energy efficient and speeds up cooking time by as much as 30%.
The oven is convenient, efficient, fast, and you'll use it every day.
Is the Smart Oven Easy to Use?
Yes.
A major advantage over other ovens is that the Breville toaster has a display screen that shows you the settings, current function, temperature, and adjustments made so it's very easy to see what your settings are.
The 9 presets also make it super easy to just pop your item in the Breville and set it to cook. It's fast and easy.
Ease of Use Features:
Function Dial
Time Dial
Temperature Conversion Button
Frozen Foods Defrost Button
Back-lit, Easy-Read LCD
Convection Fan
Pull-Out Crumb Tray
Insulated Dual Wall Door and Glass Window
What are the Cooking Options?
9 pre-set menu functions are pre-programmed with the ideal temperature, cooking time, and heat element:
Toast
Bagel
Bake
Roast
Broil
Pizza
Cookies
Reheat
Warm
Of course you can set more options if you choose for exact cooking, and that's easy to do with the dials and display screen.
The cooking options above simply make it easier to get started quickly without having to refer to a cooking guide.
This video by Breville Helps explain the different cooking options:
What is Element IQ?
Element IQ technology makes for smarter control over the heat.  The 5 heating elements don't have a fixed wattage.
The Element IQ automatically puts the power where it is needed most for the specific cooking task, delivering the right amount of power or heat at the right time.
So for broiling, it turns on the top heating elements; for baking it turns on top and bottom, adjusting power throughout the cooking time.
But don't worry, you can easily adjust the power higher or lower with the turn of a knob.
Even when using pre-set programs, time and temperature can easily be adjusted to your own preference.
The oven will even remember the new settings for next time (I guess that's why they call it a smart toaster oven!).
It does turn off automatically after two hours, so if you're slow cooking something, just be aware that you'll have to reset it.
How About the Size of the Toaster Oven?
One thing is for sure, you want to make sure that the Smart Oven will fit on your counter.
Many people have a space and can just leave it out for easy use and access.
If your counter isn't big enough (which is rare), you can still pull the oven out to use it, but will need to store it in a pantry or cupboard.
To be sure that it makes the cut here are the measurements for the exterior and interior:
The exterior of the oven is 18.5 x 16.25 x 11.25 inches.  Most people find it fits on their counter-top just fine.
The interior of the Breville is 13 1/2″ x 11 1/2″ x 5″ high (to clear the elements).  It has a curved recess in the back so that a 13″ pizza pan fits in perfectly.
The toaster oven weighs 17.3 pounds.
You'll be amazed at what fits in here!  It's like Mary Poppin's carpet bag.  It's small enough to fit on your counter, but it fits a 9 x 13 inch pan and bakes your cake.  It's pretty cool to be able to fit a 13″ pizza pan in there for all your frozen (or homemade) pizzas.
Is it Really Energy Efficient?
The toaster oven is well known for its efficiency, and that's one reason why everyone loves it so much.
It heats up faster than a conventional wall oven, and it's much more energy efficient because there is very little wasted space.
So you end up cooking your food rather than your whole house, which makes a big difference in the summer! A standard wall oven really heats up your kitchen and your home.  The Breville toaster oven simply, does not.
Think about it.  You can heat up your large wall oven for your 9 x 13 inch baking pan, or you use the same size pan heating up an area only slightly larger than the pan itself.  But don't worry, you won't sacrifice anything in the baking process.
The convection fan and settings provide even, precise cooking.
And speaking of efficiency–the convection option speeds up cooking time by up to 30%!
Key Features
Housed in reinforced stainless steel
Non stick interior
1800 watts
Fast heat-up times
Energy-efficient operation
Three rack positions
Auto-eject wire rack for safe removal of hot items
Embossed and ribbed top surface that can be used as a warming tray
Front-access removable crumb tray for quick cleanup
What are Others Saying?
The oven has over 2,390 reviews with an average rating of 4.5 out of 5 stars. That's a nearly perfect rating!
Here's what people on Amazon had to say about the Breville Smart Toaster oven.
"I[t] gets hot really quick, it looks good, its clean, it is super easy to use and it uses less electric than the regular oven doing the same job."
"Well done Breville.""If you decide to purchase the Breville toaster oven, you will not be disappointed."
"I'm so glad I chose this one! I never use my regular oven anymore."
"This does it all! I continue to find new reasons to use this rather than my oven. It's well worth the money."
What's in the Box?
The toaster oven
13-inch non-stick pizza pan
12-by-12-inch enamel baking pan
12-by-12-inch enamel broil rack
Removable crumb tray
Wire Rack
Is There a Warranty?
The Breville Smart Oven BOV800XL has a 1 year limited warranty.
Where Can You Get the Best Price?
I've seen the Breville Smart Toaster Oven for sale on a number of websites (including the Breville site) with prices ranging from $249 all the way up to $359.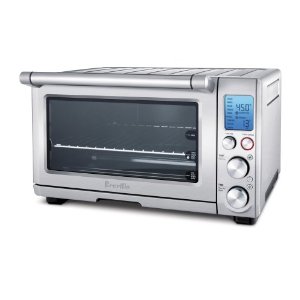 Check out what more customers are saying about the Breville Smart Oven on Amazon