The Awesomeness of an Electric Citrus Press
The CCJ-500 is the Number 1 Best Selling Citrus Juicer on Amazon.
After watching my poor hands straining to squeeze every last drop of juice from my lemons, my kind husband surprised me with the Cuisinart CCJ-500 Pulp Control Citrus Juicer.
At first I thought, "oh, great–another thing to clean." But guess what? Cleaning is a breeze. This is so easy and convenient that I don't hesitate to use it for just one lemon. The juicing plus clean-up is faster than just juicing with my old hand juicer.
Now nearly every morning I juice half a lemon into a glass of water with chia seeds–my energizing boost for the day! Heavenly!
Here's why the Cuisinart CCJ-500 Citrus Juicer is the best for the job.
How the Juicer Works
It's so easy! Put half a fruit on the cone, and gently press down. Ta-da!
Works so well that the reamer leaves the rind empty!
The Auto-Reversing Cone makes for efficient juicing. Don't be surprised if you push, release, then push down again and it spins in the opposite direction. This is what makes it so great at getting all the juice out.
Final-Spin feature–After you're done juicing, press down on the lid to activate rapid spinning to get extra juice out of the pulp and juice container. Every. Last. Drop.
Why the Cuisinart Pulp Control Citrus Juicer?
Extra-long Snap-Up Spout prevents dripping. Flip it up to stop the flow and slip a new cup under the spout. Orange juice for two, anyone?
Works with any size citrus fruit–orange, lemon, lime, grapefruit.
The Cuisinart strains out the seeds.
Stainless Steel–strong, sleek, and pretty.
Not too big–small counter footprint.
Parts are Dishwasher safe (easy!)
Comes with a Recipe Booklet
There are a few more reasons you'll should be aware of when choosing the CCJ-500, but first…
See it in Action!
Here's a video of a Cuicinart Citrus Juicer Review. Watch and see how it works:
Many Uses
Just think of: Fresh squeezed orange juice in the morning or…
Cold lemonade on a hot summer day.
Homemade salad dressings.
Citrus Sorbet.
Lemon Pasta.
Lime Rice.
Countless are the recipes, Endless the possibilities.
Color Options
Often, there's only one color option with kitchen appliances, but not with this Citrus Juicer.
In-store selection will be limited to what the store carries, but on Amazon, you have the option of choosing between all five color options: Orange, Brushed Stainless (the color we have), Dark Green, Dark Yellow, and Polished Chrome.
Clean-up?
The entire top piece comes off, making it simple to clean.
Immediately after use, rinse. You may need a scrub brush if there's a lot of pulp residue.
If you wait to clean it until the pulp is dry and crusted on, yeah, then it will require more soaking and scrubbing. But immediate cleaning is a breeze.
The parts are also dishwasher safe.
The base doesn't even get splattered, but you can wipe it with a clean cloth if needed.
Other Options?
If you have a stand mixer–a Kitchen Aid, Cuisinart, or Bosch, there's a citrus juicer attachment you can buy to go with your machine.
This may make sense for you if you don't want another appliance.
But before you run off and buy the attachment, I would advise you to just look at the pictures.
I've heard they're more difficult to clean, but the Kitchen Aid one is just hilarious when you see how it attaches. You have to juice sideways! I foresee awkward, sticky arms.
You can also go with a more expensive juice extractor (see our list of top 10 juicers).
Other juice extractors can juice various types of fruit and veggies, not just citrus.
What Others are Saying about the Citrus Juicer
Over 1,920 reviews with an average 4.5 out of 5 stars is awesome.
It takes a lot of sales to get that many reviews, and the high rating helps show you won't be taking a chance on something that only a few people have purchased or had experience with. Here's what people are saying:
"Highly recommend this item!!!"
"Though small, it is powerful"
"Very happy with it and I would recommend it."
"My favorite feature is the turbo speed where you put the plastic cover on and press down and it spins very fast and gets out the last bit of juice and it really works."
What's the Warranty?
Cuisinart backs up and supports their products, something that is refreshing in today's world.
If another company gives a warranty, it's usually a 30, 90 or 1 year warranty.
The Cuisinart Citrus Juicer CCJ-500 has a 3-year limited warranty. That's 1,095 days of coverage from the date of your purchase. Issues in the manufacturing (if applicable) should be easily noticed by then.
Great warranty coverage shows Cuisinart is confident in their product and will stand by what they make.
Where Can You Get the Best Price?
Amazon has the Citrus Juicer for a great price and you can select from the assortment of colors to match your kitchen!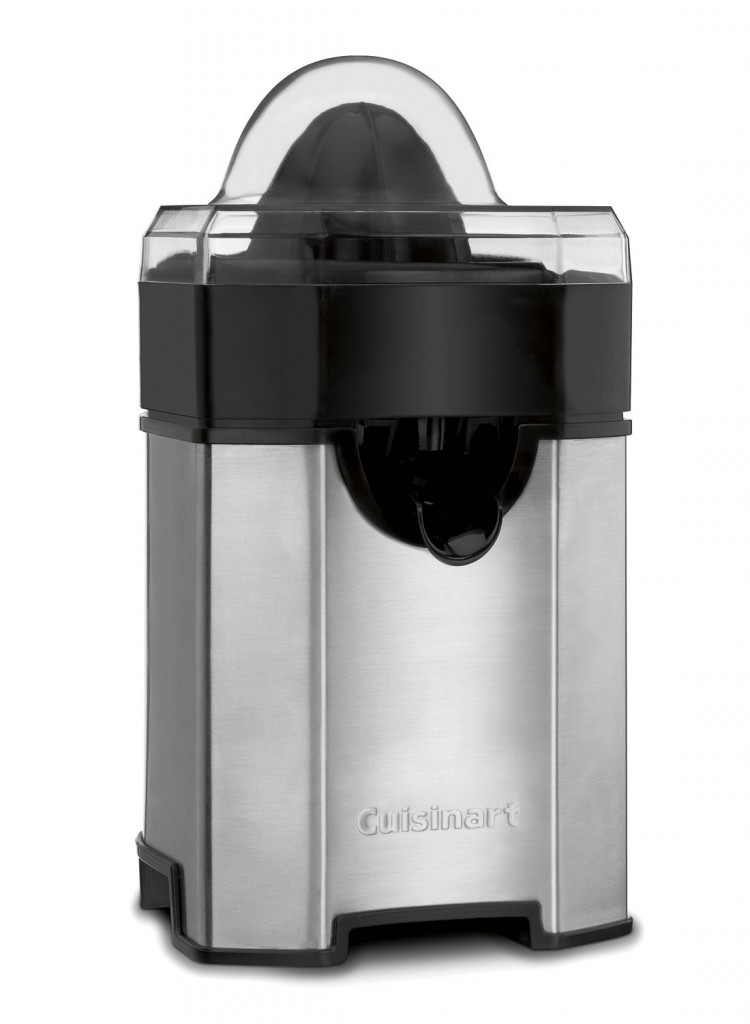 >>> Buy on Amazon <<<