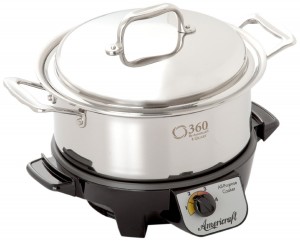 Just yesterday I made my favorite curry recipe, and my husband told me it tasted better than ever before.
What did I do differently?
I made it in my 360 Cookware 4-Quart Pot!
I've been using the 360 Cookware much more frequently, both with the slow cooker base, and without, and I've been amazed at the enhancement of the taste and texture of my tried-and-true recipes.
When you spin the lid on your 360 Cookware, it creates a vapor seal. locking in your foods' natural moisture.
The warm moisture surrounds the food, cooking it evenly and quickly while preserving your foods' texture, flavor, and nutrients.
That's how it works, but the proof comes when you taste it.
So I thought I'd share a few great recipes, including some of my go-to recipes, enhanced by the 360 Cookware along with recipes from the 360 Cookware recipe page.
The 360 Cookware library of recipes on their website is where we've found some of our favorites below.
The 360 Video Library is also helpful and videos that you ought to check out to learn more about how easy it can be to cook with your 360 Cookware.
Bon Apetite!
1. Vegetable Coconut Curry
2 tsp curry powder
½ tsp cracked black pepper
½ tsp salt
¼  tsp chili powder
1 ½ cup broccoli florets
1 ½ cup cauliflower florets
2 carrots, chopped
About ¾ cup frozen peas
1 large red onion, chopped
5 cloves garlic, minced
1 TBS olive oil
1 (14 oz) can coconut milk
1 TBS tapioca starch (or cornstarch)
1 TBS dried basil
1 tsp ginger
3 cups cooked rice
Mix curry powder, salt, pepper, and chili powder.  Add vegetables; toss to coat evenly.  Let sit for 15 minutes.
Meanwhile, in a 360 Cookware 4-Quart pot, heat onion and garlic in hot oil over medium heat for 2 minutes.
Remove onion mixture and add curry vegetables to 360 Cookware 4-Quart pot.
Cover, spin to create vapor seal, and reduce heat to medium-low.  Cook until cooked through, about 10 minutes.  Remove from the pan and keep warm.
Combine coconut milk and tapioca starch.  Carefully add to pot.  Cook and stir until slightly thickened and bubbly.
Return vegetables and onion mixture to pot.  Stir in basil and ginger.  Cook and stir until heated through.  Serve over rice.
2. Tilapia with Fresh Salsa, Corn, and Baby Spinach
16 ounces best quality fresh salsa
4 cups lightly packed baby spinach
10.5 ounce can black beans, rinsed and drained
3 ears corn, shucked, kernels cut from cobs (about 1 ½ cups)
4 skinless tilapia fillets
Salt and freshly ground black pepper
Smoked paprika
1 lime, cut into wedges
Pour the salsa into the 360 Cookware pan or skillet. Place spinach over the salsa in an even layer, and lightly season it with salt. Sprinkle the black beans and corn evenly over the spinach.
Sprinkle the fish fillets with salt and pepper, and lightly sprinkle with smoked paprika. Arrange the fillets in a single layer over the vegetable mixture.
Cover the skillet and cook over medium heat until steam just begins to escape from the lid, about 5 minutes.
Spin the lid to engage the vapor seal then reduce the heat to low. Cook the fish for 2 minutes then immediately remove the pan from the heat.
Let stand off-heat for about 5 minutes until the fish is just cooked through. (It should flake easily with a fork.)
Divide the fish, vegetables, and sauce among 4 plates. Serve with lime wedges.
3. Northern Cornbread
1 ½ cups cornmeal
1 cup all-purpose flour
4 tablespoons brown sugar
2 teaspoon baking powder
½  teaspoon salt
¼ teaspoon baking soda
1 cup buttermilk
2 large eggs
8 tablespoon butter, melted and cooled slightly
Spray the 360 Cookware Sauté Pan with non-stick cooking spray and set aside.
Combine the cornmeal, flour, sugar, baking powder, salt, and baking soda in a large bowl.
Whisk together the buttermilk and eggs in another bowl.
Stir the buttermilk mixture into the cornmeal mixture until just blended. Fold in the butter and pour the batter into the prepared skillet. Smooth the batter out to the edges of the pan.
Cover the pan and cook over low heat until the cornbread has risen and a few moist crumbs cling to a cake tester, about 30 minutes. Serve warm or at room temperature.
Read our review of the 360 Slow Cooker. We love using our 360 Cookware. It sounds cliche, but you really can taste the difference. When our kids started to enjoy eating broccoli, it was because of the 360. True story.