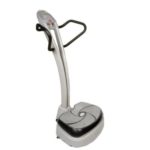 The first time I saw a whole body vibrator in use, I thought it was weird.
If you haven't seen one before, check out the video below.
We've been fans of the Rebounder. Specifically, the JumpSport Rebounder since it's so quiet.
But there's another way to get the benefits of stimulating the lymphatic system (the system that helps eliminate cell waste from the body), and that's by using a Whole Body Vibrator.
What is a Whole Body Vibrator?
In a nutshell, a whole body vibrator vibrates your whole body as you stand on a vibrating plate.
The vibrating plate moves up and down at different angles aka multi-directional vibrations. The distance the vibrating plate moves isn't very much all, but the movement is very fast.
How does a Whole Body Vibrator Help?
The benefits that a vibrator like the Lifespan pictured above is a complete exercise of the whole body. Whole body vibrators are kept in fitness centers as a way to help improve joint strength and joint range of motion, improved balance (better be after all that shaking) and of course muscle strength.
You get a lot of bang for your buck as the system helps to exercise a wide range of muscle groups and does so at incredibly fast speeds.
Here's a video of how it works, and you can see that they're not shaking like crazy. The vibrations are smooth although they can also be adjusted.
How much does a Whole Body Vibrator Cost and how can you get a Good Deal?
Whole Body Vibrators like the Power Plate

brand shown in the video above will set you back $5K to $8K. They're not cheap, but if that's that's what you want, then go for it.
Alternatively, you can look into one of the best selling vibrators because of the reduced cost, the Lifespan, and you can read the reviews on Amazon here.
But is a Body Vibrator better than a Rebounder?
You'll remember that a rebounder is a mini-trampoline of sorts that you jump on that stimulates the lymphatic system, helps strengthen muscles, balance, and is similar to the effects of a full body vibrator.
The comparison between a rebounder and a whole body vibrator comes down to two things:
Results
A rebounder and whole body vibrator exercise in similar ways, except for the whole body vibrator works at a much faster speed. Although both are good exercises, the vibrator may give faster results in terms of the tone you're looking for.
If you've been injured or have joint pain a vibrator may be easier for you initially.
However, a rebounder, which is what we enjoy, can really give a great workout.
Preference
Although it's possible for a whole body vibrator to achieve faster results, it is a little…shall we say…goofy.
Now there are great exercises you can do with the vibrator, but you have to determine what you will prefer and keep using.
The rebounder we use is quiet, and it's portable. So as far as pull it out to enjoy a little television while exercising, the rebounder is great for that.
We can also take it outside if we want, and it just feels like a good exercise that really helps to stimulate the lymphatic system.
Price
You'll definitely find that the rebounders offer the better price option.
Compare to thousands of dollars or even $700 you may pay for a body vibrator.
Making the Choice
So, weigh these elements based on what you think you would use the most and would give you the greatest benefit based on price, results, and enjoyable to your personal preferences.
You can check additional reviews of the Lifespan Vibrator on Amazon here for additional consideration.