It was so fun to see the UPS Man deliver a lawn mower inside my house for free
Who would have ever guessed that I would buy a lawn mower over the Internet and have it delivered inside my house for free with 2-day shipping? I joined the Amazon Prime program and Bingo! Free, 2-day shipping even on a heavy item like a lawn mower (I think you can still sign up at checkout).
But I digress, first off, why get a Reel Lawn Mower in the first place?
Why use the Scotts Classic over all Regular Lawn Mower?
Reel lawn mowers have come a very, very long way in the last few decades.
A number of factors influenced our decision to upgrade our lawn mower to the Scotts Classic Reel Mower.
Better for the environment
Extremely quiet compared to gas-powered mowers
Hardly any dust is stirred up compared to gas-powered mowers
The Reel Lawn mower is easier to push and maneuver
Mulches the cut grass back into the grass
No more buying gasoline for a lawn mower!!!
Less dangerous, in our opinion than a gas powered mower
No air pollution
Requires little maintenance
The blades will self sharpen with a small application of sharpening solution once every 3 years
Provides a much better cut, and is better for the lawn. Gas-powered mowers whack the top of the grass. A Reel Lawn mower snips/cuts the grass. We saw a much finer cut with our new mower.
Classy golf courses use Reel Lawn Mowers. They're large and pulled by tractors, but they're still Reel Lawn Mowers.
It's kinda cool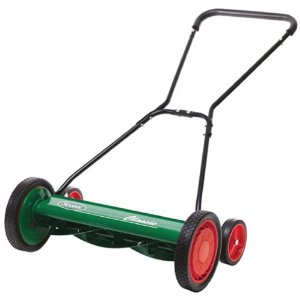 Compared to our old lawn mower, the Scotts Classic that we purchased is actually wider than our old mower, so we can cover more ground.
Our old mower would get my shoes green if the grass was wet because it mashes the lawn. The Scotts doesn't do that because it make a clean snip to the grass.
A number of people told us that it'd be hard to push, well, I invite them to come and try. Our old gas powered lawn mower is not self propelled, so I was pushing around 80 pounds or more to get that lawn mower up the hill. The Reel Lawn mower is about 30 pounds in weight.
Scotts really has it down to a science. The mower has two front wheels and two smaller rear wheels that are used to easily adjust the cutting height.
Why I decided to switch to a Reel Lawnmower
I was tired of the noise of our gas powered mower
Tired of the smells
Tired of the weight and having to push around a heavy lawnmower
Tired of the gas prices
Tired of starting (or not starting) the gas powered lawn mower at the beginning of the season
I wanted something quiet
I wanted something better for the environment
I wanted something sturdy yet easier to push
So Fun to See the Reactions of Others…
One of my favorite things about the reel lawn mower is the reactions I get from neighbors and friends. Numerous neighbors have said, "I can't believe you use one of those things! Isn't it hard?"
I guess I could impress them and say, "Yes, it takes tons of training and muscles." But I don't. I tell them it's easy to use and these have come a long ways since they first came out. One push makes the blades spin multiple times.
I was driving with a friend and we saw another neighbor using a Scotts, and my friend just couldn't believe what he was doing. Then I let down the bombshell, "I have one too." My friend just couldn't get over it.
It's a blast showing people, and once they see it's not hard to push, they are really impressed.
Compared to other Reel Mowers
I looked at other reel lawn mowers, and the Scotts won out on just about everything.
The Scotts Classic cut wider than other reel mowers which means less trips
The Scotts could adjust higher/lower cuts better than other reel lawn mowers
It also seemed that the Scotts was more versatile as to the different grass it could cut
So after evaluating a bunch, I decided to go with the Scotts.
What are other's saying
I just checked back on Amazon.com where I got ours and was reminded that it has almost 600 reviews with a 4 out of 5 star rating. That's pretty good to have 600 reviews. It's only a very tiny percentage of those that purchase come back to write a review, so they must have sold a ton of these. The other lawn mowers I looked at had 97 reviews, 20 reviews, etc.
Here's a small sampling of what people have said on Amazon:
"Simple. Quiet. Inexpensive. It just works."
"I really enjoy not having to deal with gas, starting, oil changing, noise, etc."
"Better than I expected"
"although the mower gets stuck whenever it meets small branches laying in the grass, I still enjoy it a lot!"
"Faster and easier to push than our old mower!"
Drawbacks to using the Scotts Classic?
The Reel Lawn Mower doesn't like sticks very much, so you need to make sure that sticks are picked up, but other than that, it mowed over the grass just fine.
If I let the lawn grow too tall, then it does get a little hard to push in the really tall areas. So if you let your lawn go more than a week, and your lawn is growing fast, you may need to pull out the old gas powered mower.
If the lawn does get too tall, you may need to go over a couple thick areas twice. We have a large yard with a lot to mow, and it seems like I can get through mowing faster with the Scotts because it's much lighter than our old push mower.
I also had a problem where I think I may have tightened the connecting bars a little too tight. Anyway, one of the connector bars broke where it attaches to the bottom connector bar. I wrote the company (Scotts), and they sent me a replacement for free. That was awesome!
What should you pay for the Scotts Classic?
List price is $119, but we got it much cheaper on Amazon.com.
Best place to buy the Scotts Classic
We purchased ours from Amazon.com (direct link to the Scotts Mower)
which had the best price.
If you buy it from the seller Amazon.com and not a third party seller, you'll get free shipping. If you're an Amazon Prime member, you'll get free, 2-day shipping which is what we did.
Read more about the mower and product on Amazon.com here
— Update: I'm getting the itch to a Fiskars Momemtum Reel Lawn Mower —
I still use our Scott's Classic although I'll alternate with the gas powered mower if the lawn grows too fast in the spring.
I saw a video and am getting the itch to upgrade to a Fiskars Momemtum.
Here's the video:
The reason why I'm thinking about upgrading is because the cutting zone on the Fiskars reaches out past the wheels. The reason why it's a challenge with the Scott's Classic is because you have to mow into the previous swath because the blades don't extend past the wheels. They do with the Fiskars.
The Fiskars also has a better handle. The Scott's Classic hand tends to wobble a put when I'm pushing up hill. The Fiskar's design is more stable because the handle sides are connected along the middle.
Don't get me wrong, the Scott's classic is great, but if you're thinking of upgrading or going all out, the Fiskars is a real nice option.
Here's the link to the Fiskars and more videos on the Amazon page, click here to view.