More and more people want a great protein supplement but one that doesn't have harmful chemicals, additives including creatine.
P90x, P90x2 and P90x3 all recommend that you use a supplement to help provide the fuel that your muscles need. The workouts have their recommended supplements, but those supplements might not be the best fit for everyone.
What if you want an organic supplement?
You may be looking for a simple supplement without all the add ons, just a simple protein shake.
Just a little bit of research online shows the potential dangers of using a protein drink that has shall we say nasty ingredients. See the Mercola whey protein article on why organic whey is one of the best ways to go to miss out on the harmful chemicals and additives in other protein drinks.
You can buy an organic whey mix right there (they have a special mix), or you can order direct from the manufacturer Defense Nutrition and get the plain mix.
We get our assortment of whey protein drinks right from the manufacturer to save a few bucks, but it's worth checking out the Mercola site to see if their special mix is right for you.
If you order from the manufacturer (Defense Nutrition), know that they often run sales around holidays. It's a great time to stock up.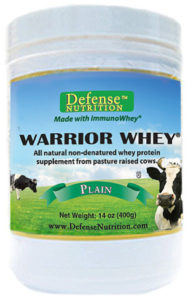 Our favorite flavors are Vanilla, Strawberry, Banana (Turmeric is used as the coloring agent in the Banana flavor ain't that cool?), and chocolate.
Can an organic supplement without all the other chemicals work?
Yes. In our research (you know, online searching, but also by listening to doctor advice), organic whey is absorbed better and faster by the body than other supplements.
The added ingredients of other supplements can actually harm your body in the long run.
The beauty of the Warrior Whey is in its simplicity. It's good ol' protein, the whey it should be (couldn't resist).
So, if you're working out with Tony Horton, and your friends call you an organic hippy nut (ahem, never happened here) and you want a high quality protein drink mix, check out the Defense Nutrition Warrior Whey.
If you haven't selected which p90x program you want, I highly recommend the new p90x3.