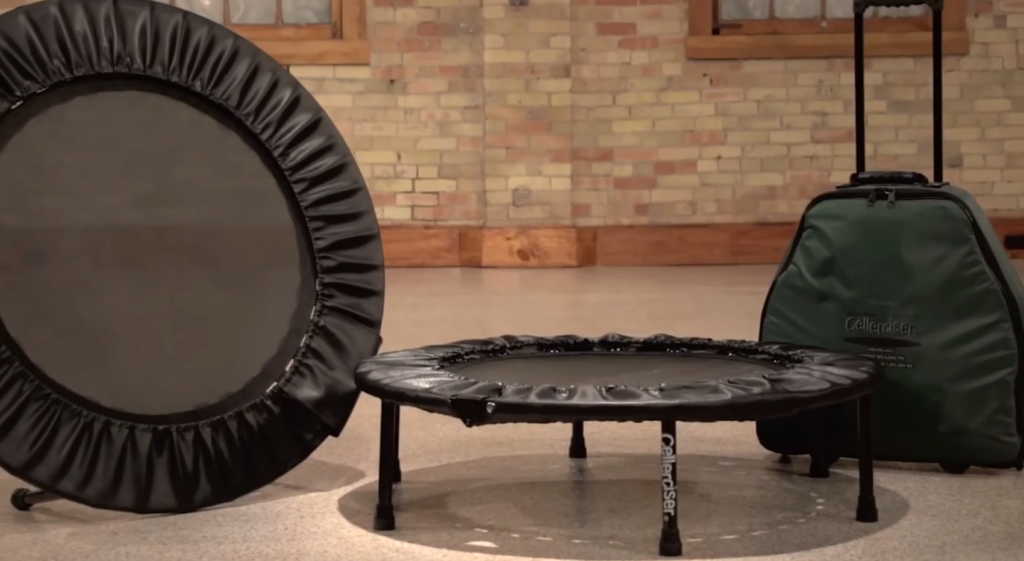 Cellerciser offers some great options in their rebounders.
Of their selection, our favorite is the Half Fold Cellerciser.
But it could be that the Tri Fold is a better option for you.
So which Cellerciser should you choose?
Both the Half Fold and the Tri-fold are made from the same top of the line materials.
The difference comes down to portability and price.
Tri Fold Advantages
The Tri Fold can fold three ways making it more compact.
It's the perfect solution if you want to take your Cellerciser with you when you travel.
The Tri Fold comes with a travel case that sports a pull handle and wheels!
It wins hands down for portability and storages. It folds up tighter and more compact than the Half Fold.
But there's something else to consider…
Half Fold Advantages
The Half Fold has the ability to fold in half.
It comes with a carry bag but it's simply a bag compared to the travel case the Tri Fold has.
The legs collapse in and the rebounder area folds down.
It's very convenient for easy storage under a bed or in the trunk of a car when traveling. We've put our JumpSport in the car, and it takes up a lot of space because it doesn't fold.
The major benefit of the Half Fold compared to the Tri-fold is the price. You may pay 1.5 to 2 times the price with a Tri Fold compared to the Half Fold.
Which Celleciser is the Best?
If you want to travel a lot with your Cellerciser, then the Tri Fold is definitely the preferred choice, but it is pricier.
If the moderate portability is important, and you want to be price conscious, then the Half Fold is the popular choice.
Either way, you've got a great rebounder there. For more information, read our Half-Fold Cellerciser Review
Our personal choice comes down to comparing the different brands and making the JumpSport 350 our favorite (review here)
We recommend the JumpSport or the bellicon with fold-in legs because instead of springs that can generate a lot of noise, the JumpSport and bellicon rebounders have bungee cords that secure the mat which help make near silent operation, and they can be easier on the joints.