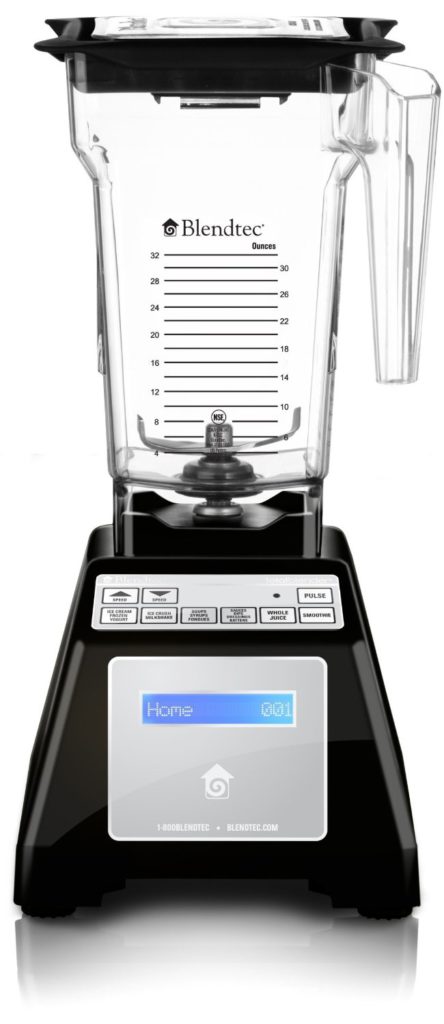 You've seen the videos, heard the rumors…iPods being blended into a soft powdery dust…a rake being chopped down to nothing.
How about a glow stick, a remote control car, or the latest–an iPad?
Check it out in action with the video below:
Blendtec Total Blender
 – The YouTube sensation.
Blending iPhones is fine (well, not if you're the iPhone owner), but how does it work blending foods?
The TotalBlender blends more than iPhones and Glow Sticks
Finally, at a local store, I saw a demonstration using real foods–actually whole foods (stems, seeds, hulls and all)–to make delicious and healthy smoothies, sauces, and hot soups using only raw ingredients.
What I sampled was smooth and even textured (without the enormous ice chips and fruit chunks that my current blender left).
It was something I would want to drink every day.  And the soup?  It still amazes me that you can put raw vegetables into a blender, turn it on soup mode, and pour out warm soup in less than a couple of minutes.
Sold.
We got the Blendtec Total Blender Basic, and I love it!
Since I had such a hard time finding reviews on blending actual food, I thought I'd give you the information.
Now that I've used it to make smoothies, juices, pancakes, ice cream, and dips–
The Basics about the Total Blender Basic:
I love it!  Its powerful, fast, and blends evenly.
The Blendtec is also very versatile.
Although my standard is smoothies, I've also used the Blendtec to grind grains, then make pancake batter out of the flour.
No problem.
I put chunks of vegetables in there to make creamy soups.
Unbelievable.  It was warm!  And super smooth!
We've made:
Ice cream
Hummus
Pesto
Fresh juice from whole fruits and vegetables
Butternut Squash Soup
Lots and lots of smoothies (where I hide all kinds of greens and seeds–my kids can't tell they're there).
After using the Blendtec regularly for several months now, I get frustrated when I'm traveling and use other blenders that just don't cut it.
Does the Blendtec Total Blender really work better than my old blender?  Yes!  And you'll notice the difference, too, from the first smoothie you make.
Experience = Lessons Learned
Blendtec Total Blender Tips
Here are a few tips that should save you some time with your new Blendtec:
Order is Important
I was so excited to use the Blendtec Total Blender  for the first time, but luckily I glanced through the recipe book first because I learned a few things:
Soft ingredients go on the bottom
Ice goes in last
Repeat a blending cycle if you want it smoother
Like any new thing, there is a bit of a learning curve.
Smoothies Should be…Smooth 
My issue:  some of the smoothies got stuck with air pockets.
We'd use ice and frozen fruits during the winter and it would seem to jam (it really wasn't jamming, but air pockets stopped the upper contents from being sucked down into the juicer).
Solutions learned:
Make sure you have enough liquid
Try a different setting.  For example, if you're making a smoothie with lots of frozen fruit, go for the "Ice Crush" setting rather than "Smoothie."
The air pocket is the only real issue I've had, so I'm glad I could figure out how to make it work great!
What Makes the Blendtec Total Blender Different?
From the square-shaped jar to the single-prong wingtip blade, the Smart-Touch Tecnology to the pre-set blending options, and power, power, power. . .
The Blendtec is designed to out-shine, and here's what it all means. . .
What is Smart-Touch Tec-nology?
The Blendtec Total Blender is equipped with Smart-Touch Tec-nology, which means that the blender automatically speeds up and slows down to draw ingredients down to the blade.
It adds more power and friction just when you need it, then automatically shuts off.
Each cycle is timed, so you simply push the button and let the Blendtec do its thing while you watch the seconds count down on the digital timer.
What are the Preprogrammed Blend Cycles?
The Blendtec Total Blender has 6 Preprogrammed blending cycles in addition to the general speed and pulse buttons.
There's no guess work here.
With the pre-set options, what you want is what you get.
Ice Cream / Frozen Yogurt
Ice Crush / Milkshake
Soups / Syrups / Fondues
Sauces / Dips /Dressings / Batters
Whole Juice
Smoothie
Pulse
Speed Up
Speed Down
Also, don't be afraid to try different settings.  For example, if you're making a smoothie with lots of frozen fruit, try the "Ice Crush" setting rather than "Smoothie."
How Much Power are we Talking in this Blender?
The Blendtec Total Blender has so much power that it comes with an Ice-Crushing Guarantee to turn ice to snow.
I haven't tried this yet, but snow cones are starting to sound pretty good!
Blender Specs:
1560 Watts
13 Amps
3 Horse Power direct-drive motor
. . . All this makes the blade spin at up to 29,000 rpm–this is where the Ice-Crushing Guarantee comes in.
What's Different About the Blade…Why isn't is Sharp?
The Blendtec Total Blender has a patented single-prong wingtip blade made of stainless-steel.
The blade is flat and turns up on the ends, and–this surprised me–its not even sharp!
It doesn't have to be at the speeds that it runs.
You won't cut yourself on this blade.
It's an amazing design that the power and square shape of the blender work so well with a sturdy yet blunt blade.
The blade creates a better vortex than the average blender, micronizing whole ingredients and providing smooth, even-textured blending.
What about the Jar Container?
Capacity:  8 cups, 64 ounces, or nearly 2 quarts
Dimensions:  7x7x9.5"
Actual weight:  1.5 lbs.
The jar itself is also shorter and half the weight of typical blender jars that hold the same volume.
It has easy-to-read markings in both ounces and quarter-cup increments.  And I've measured–they're accurate!
You'll notice the Blendtec Jar has a unique square shape.
This design basically helps to blend whole foods better.
To be more detailed, the square shape works with the wingtip blade to create a better vortex (think of the cyclone down the middle when you're blending), micronizing fruits and vegetables to make their nutrients more bio-available to the body.
The polycarbonate jar is BPA-free and made of durable copolyester.
This means the plastic is safe to use with food, and the jar is strong and sturdy enough to handle heavy daily use.
I was relieved to find its made from heavy-duty plastic because my old blender had a glass jar that broke when it went from cold to hot too quickly.
The strength and durability of the jar are exceptional.
To Top it off…The Lid
The Total Blender Jar is topped with a vented gripper lid.
It fits perfectly, allowing no spillage.
The vent lets the jar breathe–This is especially important when blending hot liquids or making hot soup.
The mid section of the lid is removable, allowing you to add ingredients through the center opening without removing the lid.
How about Clean-up?
Clean-up is a breeze.
Simply put a bit of water in the blender jar, add a squirt of dish soap, and pulse a few times.
Rinse and let it dry. (The ease of clean-up is my husbands favorite feature)!
It Comes With a Recipe Book!
I mean a real recipe book–spiral bound with pictures and lots of detailed recipes.
Glance through it when you get it.
Not only does it inform you of the Blendtec possibilities, it also has some helpful advice for getting the best results out of your Total Blender.
What's the Size of the the Total Blender?
Dimensions: 7" wide x 15" tall x 8" deep
Actual weight:  7 lbs
What's great is that it's sturdy enough for the job but not so heavy that it's hard to move.
What are Others Saying?
The Blendtec Total Blender has an average rating of 4.5 out of 5 stars from over 1,000 customer reviews on Amazon.
Here's just a sampling:
"I have been extremely happy with the results of my morning smoothie, as well as several cream soups, chopped veggies, and a yogurt from the recipe book which is sent with the blender. . ."
"Happy to say that after a couple of years of almost daily use, my Blendtec is still going strong!!"
Does it Have a Warranty?
The Blendtec Total Blender has a:
3-year motor-base warranty
1-year jar warranty
Lifetime coupling-and-blade warranty
Where Can You Get the Best Price?
One of the best places to get the BlendTec is on Amazon with Free Shipping.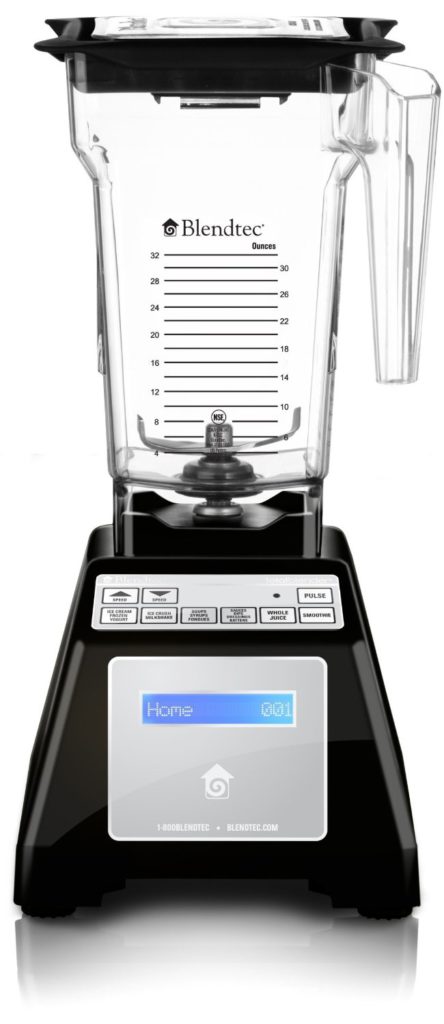 Read other Customer experiences about the BlendTec Blender on Amazon.