Here's our countdown of the Best Commercial Gelato Makers. The top things you want to consider is manufacturer, a production capacity that meets your needs, price, and last but not least, does it make great gelato. Below, we've listed a range of Professional Grade Gelato Makers. If you're looking for the best soft-serve ice-cream maker, click here.
The Nemox Pro 5K Crea Fully Automatic Commercial Tabletop Gelato/Ice Cream Maker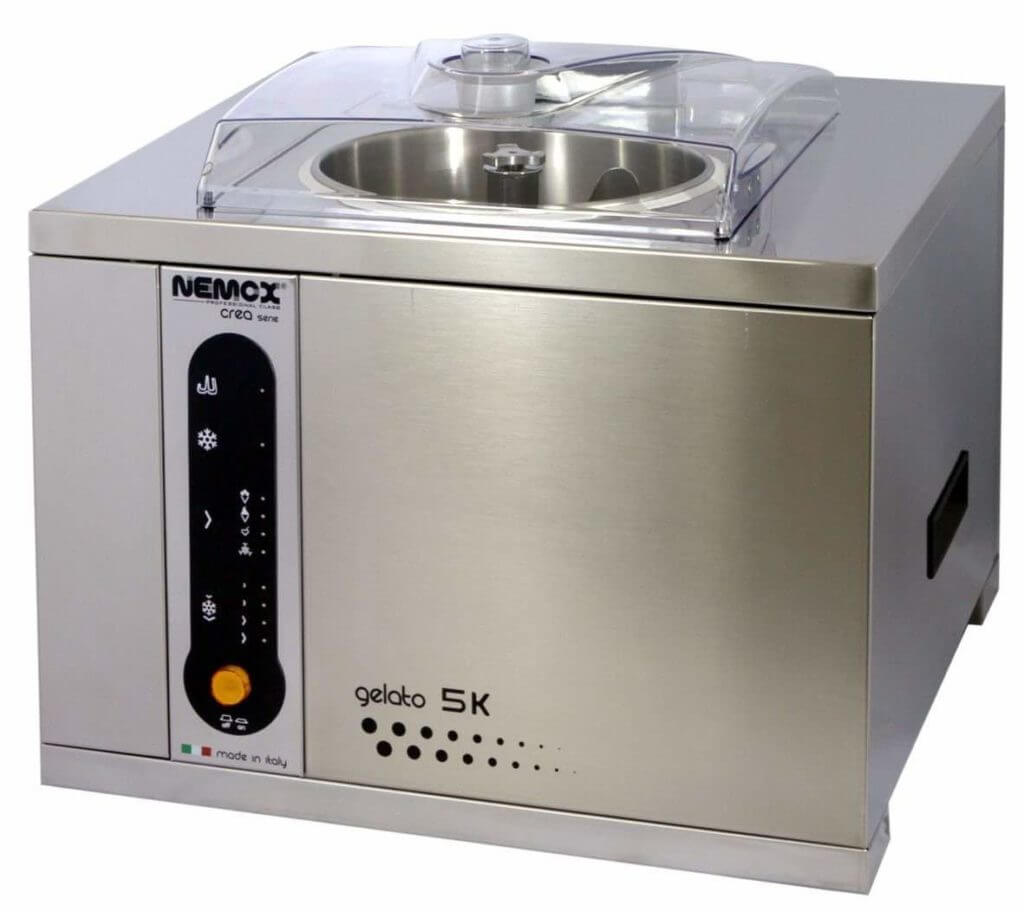 The Nemox Pro 5K Crea is "equipped with a sophisticated software which manages its functions."
Enter one of four programs (Gelato Classico, Semi-Soft Ice Cream, Granita, Shock freezing), and watch it go to work for you!
An Impressive 7.4 quarts per hour capacity
10-12 Minutes to make a batch
Stainless steel body and stainless steel blade
Plugs into a regular plug
Easy Cleaning

Italian Made
The great thing about the Nemox Pro 5K is that it's a tabletop machine and isn't going to require as much space as the giant machines, yet it still has a great production capacity.
The speed is incredible, perfect for large groups or small businesses, 10-12 minutes and you're done. But it's not just the speed, the capacity blows other ice cream and gelato makers out of the water with a 7.4 per-hour capacity.
Watch Nemox Gelato 5K Crea in Action:
Skip to about 1 minute into the video to really see it working.
The 5K Crea doesn't come cheap, but you do get what you pay for, and the 5k Crea delivers a ton of value. This model goes for about $5,230 and is built to last.
Get the Nemox Gelato 5K SC on Amazon with Fast, Free Shipping
Nemox Pro 6K Crea Fully Automatic Commercial Tabletop Gelato/Ice Cream Maker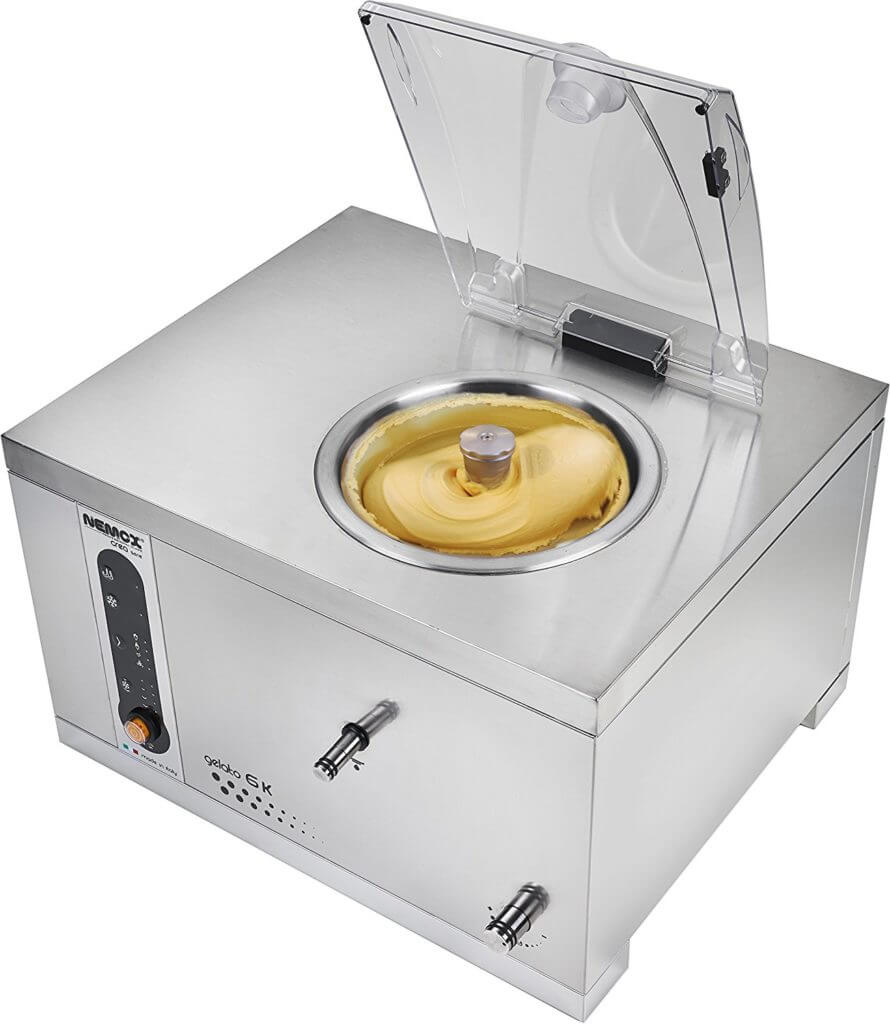 Nemox makes great commercial Gelato Makers.
The Nemox Pro 6K is similar to the 5K, but it's capacity is greater.
Super High Capacity
With the 6K Pro, you can create 11 quarts of ice-cream or gelato an hour!
Considering that gelato is often served in much small portions that ice-cream, 11 quarts will serve a lot of guests.
Just like the Nemox 5K, the Nemox Pro 6K plugs into a standard wall plug which is fantastic considering other commercial ice-cream machines require tai-phase industrial power.
Watch it in Action Below:
As a step up from the Nemox 5k, the Nemox 6K Crea is available for $6,655 with free shipping.
View the Nemox Gelato 6K Crea with Free Shipping on Amazon.
Lello Musso Pola 5030 Ice Cream & Gelato Maker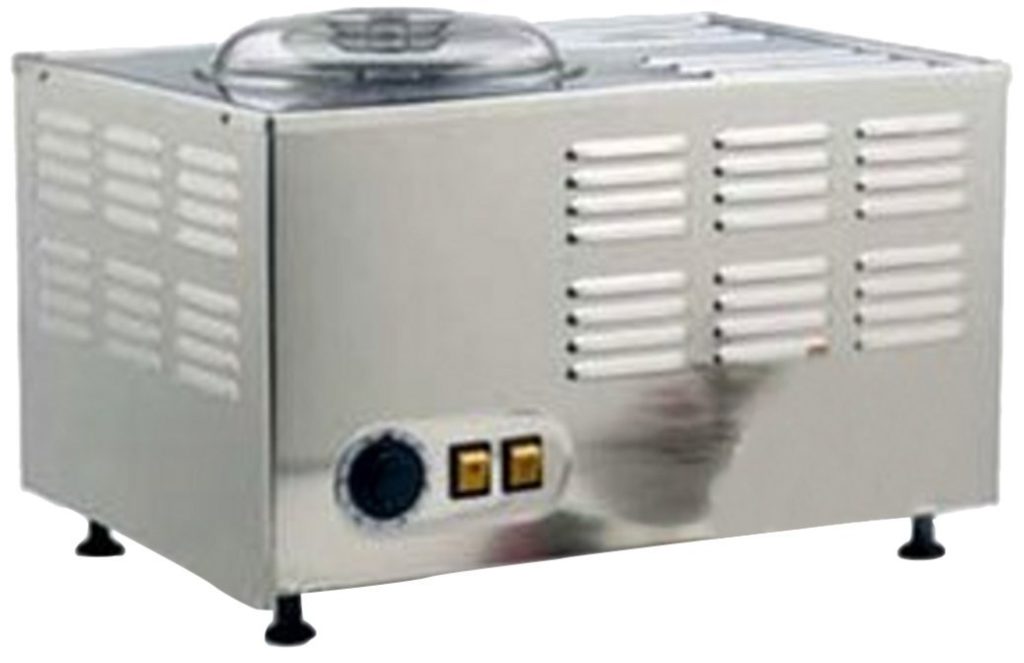 If you're looking for a pro-grade gelato and ice cream maker that won't break the bank. The Lello Musso Pola 5030, is one of the best options out there.
Stainless steel housing and blade
6 Quart per-hour Capacity
Professional build
Italian Made
Watch the Lello Musso Pola 5030 in Action: