Mmmmm, Gelato…
Ancient Rome, Sicily, or even Egypt?
Gelato has a history rich in myth and tradition, some details are more firm.
Below is a short history of gelato.
Ancient History and Bernardo Buontalenti
The tradition of cold and frozen desserts dates back thousands of years and across many cultures based in Europe, Asia, and Africa, but gelato begins to take shape in the 1500's with Bernardo Buontalenti an artist from Florence who brought gelato to the court of Catherine de' Medici.
Procopio Cutò – Father of Italian Gelato
A man named Procopio refined and heavily influenced the creation of Gelato. From Wikipedia:
Procopio had learned in about 1680 how to make a beverage of ice made of lemonade using salt to lower its temperature and keep cooler longer. Procopio had a special royal license from King Louis XIV to sell a melange of refreshments including spices, iced drinks including "frozen waters", barley water, anice flower, orange flower, cinnamon flower, frangipan, and his improved version of the Italian "ice cream" of fruit based gelatos like lemon and orange. This gave him exclusive rights to these unique sweet and cool products from his kiosk booth at Foire Saint Germain. He soon added coffee to his refreshments' list and the kiosk became a cafe. Procopio introduced the Italian "ice cream" gelato at his cafe and is one of the first to sell this new European product directly to the public. Prior to then it was reserved for royalty only. Procopio's café served it in small porcelain bowls that resembled egg cups. He is sometimes referred to as "The Father of Italian gelato".
WhyGelato has a great resource with additional information on the History of Gelato.
The first Ice-cream Machines
In 1843, Nancy Johnson of Philadelphia received the first U.S. patent for a small-scale hand-cranked ice cream freezer. The ice cream freezer was a pewter cylinder. (WP)
That started the ball rolling, and ice-cream and Gelato machines have come a long way since then.
Gelato, Once Reserved for Kings & Queens
Once a dessert reserved for Kings and Queens, Gelato can now be enjoyed by all in the comfort of their very own homes.
With the advent of the modern gelato machine, families can make gelato right in the comfort of the their own home.
But even with these in-home gelato makers, the roots are still strong to Italy, since the best gelato makers are Italian made.
What you want in a gelato maker is Capacity, Easy Cleaning and Speed.
If you are interested, check out our reviews of two of the best Gelato Makers in the world.
Lello Musso Pola 5030 Gelato & Ice-cream Maker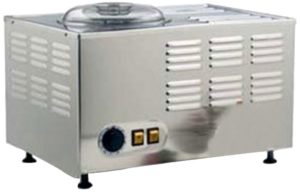 The Lello Musso Pola 5030 is Italian-made and is one of the highest capacity gelato machines available for the home.
Its stainless steel construction sets it apart from the rest of the gelato makers made of aluminum and plastic.
Check out our review of the Lello Musso Pola 5030.
Lello 4080 Musso Lussino Gelato and Ice-cream Machine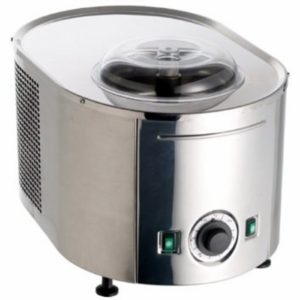 The Lello Musso Lussino is the smaller cousin to the Pola 5030.
Both machines are made by Lello and are Italian-made. Check out our review of the Lello Musso Lussino 4080.