Ahhh Summer! Sunshine, swimming, and snow cones.
I don't know about you, but my kids and I frequent the local snow cone shack a bit too often.
Because let's face it—nothing tastes better than an icy, frozen treat when the temperature creeps past 100.
We've found one of the best snow cone machines for home (or even professional) use.
The Paragon Arctic Blast SnoCone Machine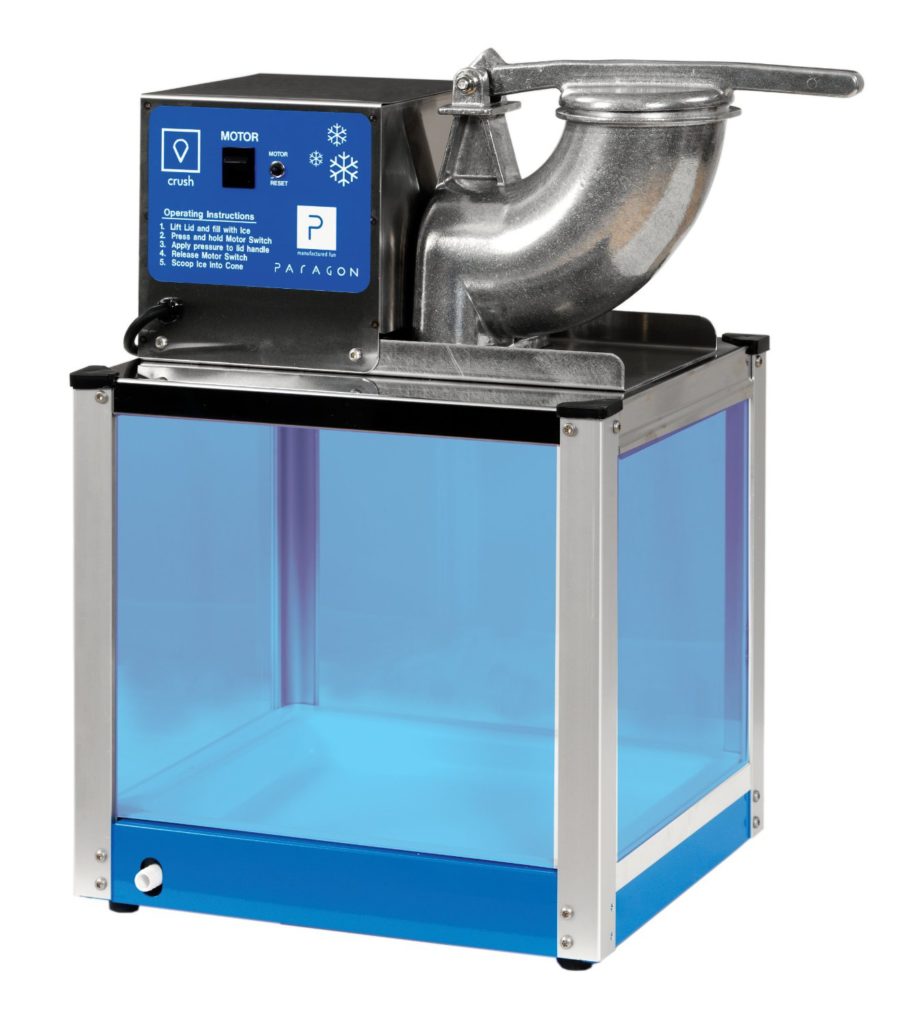 About the Arctic Blast SnoCone Machine:
Do you remember the small home snow cone makers from when you were a kid?
Mine was the Snoopy dog house one—hand cranked, icy, and you could only ever pump out a tiny one.
Compare that to the nice snow cone shack in your home town.
That's the Arctic Blast SnoCone Machine!
Finely shaved ice, minimal effort, ready in seconds.
In fact, this is a very popular commercial grade snow cone maker, so chances are, your local snow cone shack may actually use a Paragon SnoCone Machine!
The Power of the Arctic Blast
The Arctic Blast boasts a 1/3 horsepower, 1,725 rpm motor.
It requires 120 volts or 635 watts or 5.3 amps.
But here's what you really need to know: The Arctic Blast SnoCone Machine can shave over 500 pounds of ice per hour.
That means this one machine can make 1,000 (6 oz) snow cones in one hour!
Pretty impressive!
Types of Ice to use with this Shaved Ice Maker
The Paragon Arctic Blast makes great snow cones with a variety of types of ice.
One great thing for fast snocones, is that you can use cubes from your freezer, bagged ice, or chunk ice. Others require only one type of ice to be used (blocked), but the Arctic Blast allows for various types.
If you buy large block ice, just be aware the whole block won't fit in the horn. You can use the blocks, though, if you first break it down into 3-4 inch pieces.
Some people swear by one ice, others, another.
Try different types, and see what you like best.
See the Arctic Blast in Action

Simple, right?
Pour the ice in the horn, press down on the pusher to guide the ice through the blades while holding down the motor switch.
"Snow" for your cone falls into the holding area.
Scoop and serve!
Components of the Paragon Arctic Blast SnoCone Machine
The Arctic Blast SnoCone Machine is constructed from sturdy stainless steel and aluminum.
The powder-coat finish helps to prevent chipping.
Stainless steel blades shave the ice and are easy to adjust and replace, should it be necessary.
The ice holding area is boxed in by tinted-high impact polycarbonate panels that are both shatterproof and easy to clean.
A slanted drain deck drains water away from the ice and into the drain hose, keeping standing water away from your shaved ice.
The plastic tray on the bottom of the holding area is made of food grade plastic and is removable for easy cleaning.
The Arctic Blast also comes with a snow cone scoop.
How Big is the Paragon Arctic Blast?
Made in the USA, the Arctic Blast is a large, sturdy, and dependable machine.
Dimensions: 16" x 14" x 24"
It weighs about 50 pounds.
How is Clean-Up?
Cleaning the Arctic Blast SnoCone Machine is a cinch.
All you're using is ice, so messes are maintained to a watery residue.
Simply run the motor to clean out any extra water.
Detach the drain hose, if using.
Then unplug and wipe down with a clean cloth, inside and out.
The bottom of the holding area has a removable tray to make cleaning extra simple.
Drawbacks?
Some users say their drainage hose is a tight fit.
If this is the case for you, try scoring the tray all the way to the back before attaching the hose.
Some users also prop up the drain deck at a greater slant to help speed up drainage.
Tips For Amazing Snow Cones
Try different types of ice, including bagged ice and ice from your home refrigerator ice maker, to see which you prefer.
Use cold, solid ice for the best shaved ice snow cone texture.
The blades are adjustable. Moving them IN creates a finer shaved ice like snow. Moving them OUT creates a courser ice.
About 2 oz of syrup per 6 oz snow cone is about right, but the joy of having your own snow cone machine is that you can adjust the syrup according to your preference!
What Customers are Saying about the Paragon Arctic Blast SnoCone Machine
Reviewers on Amazon give the Paragon Arctic Blast SnoCone Machine a rating of 4.5 out of 5 stars!
Here's what some of the reviewers are saying:
"I have absolutely no doubt that this workhorse of a sno cone machine will last a very long time and make thousands of kids and adults very happy."
"We love it and would totally buy again."
"I made approximately 500-600 snow cones at this event and the machine performed perfectly without any problems at all. This machine is certainly well built and will serve you well. I can't recommend this machine highly enough."
"FYI, we never used this type of machine before and honestly it doesn't matter if you did or didn't. It's pretty self-explanatory."
Best Place to Buy the Paragon Arctic Blast SnoCone Machine?
The Arctic Blast is available from a limited number of suppliers.
We shopped around and found the best place to purchase is from Amazon.
While Paragon's site lists the Arctic Blast at $695 with an MSRP of $730, you can get it from Amazon at a much more manageable $548 with the advantage of free shipping.
Whether you'll use the Arctic Blast SnoCone machine for business or personal use, head to Amazon to purchase it for significant savings.