At first, I was nervous to get P90x. I thought it would be too much for me.
I had done a some Tae Bo and had exercised at the gym (not very regularly), and I really wanted something to get into shape.
I asked a friend, and he said how hard P90x was, so I decided to start with P90 or Power 90.
Looking back, I should have just started with P90x taking it slow at first, and then ramping up.
Having done P90, P90x, Some of P90x2, and all of P90X3, I can say that P90X3 is my favorite, but the other workouts have their benefits as well.
Here's a quick Run Down of P90 vs P90x vs P90x3…
Quick History. In the Beginning….Power 90
2 Discs
7 Workouts
Quite a bit of punching and kicking the air. Again, it's great for starters.
The warmup, cool down period is quite lengthy in each video compared to the newer versions. If you want easier startup, this could work for you.
Sectional progression to help you ease into the workouts.
Drawbacks: After 90 days, you have the 7 workouts memorized.
Who's it for: Never exercised before and want to ease into the P90x world
Power 90 Workouts Include
Sculpt Circuit 1–2  – 29 minutes
Sweat Cardio 1–2  – 36 minutes
Sculpt Circuit 3–4  – 38 minutes
Sweat Cardio 3–4  – 42 minutes
Ab Ripper 100   – 4 minutes
Ab Ripper 200  –  6 minutes
Fat Burning Express   – 35 minutes
Power 90 is no walk in the park, but compared to P90x and up, it's the baby steps.
Over 230 reviews on Amazon. Find out more about Tony Horton's POWER 90 DVD Workout
P90X – The Mother Workout
Oh yes, here's where the meat is.
Although the latest incarnation (P90X3) is quite the workout, P90X holds its own very, very well.
The big difference here is that the P90X workouts are much longer than the Power 90 or the P90X3 workouts.
P90x is such a great workout regime.
You can use the App, to help monitor and record your progress.
The routines cover a more more dynamic range than Power 90.
The great thing is that you can go at your own pace.
At the beginning, you might not be able to do as many reps as the guys on the screen, but eventually, you can.
Here's the P90x workouts:
Chest & Back
Plyometrics
Shoulders & Arms
Yoga X
Legs & Back
Kenpo X
X Stretch
Core Synergistics
Chest, Shoulders, & Triceps
Back & Biceps
Cardio X
Ab Ripper X
Workout time, you're looking from around 40 minutes to 90 minutes (that's the Yoga workout…went a little overboard there).
So comparing to Power 90, P90x is such a jump forward in terms of variety, difficulty, and completeness of the workout.
I loved participating in the P90x exercise routine and made it all the way to the finish line. It was tough, but worth it.
You'll definitely want the exercise bands and possibly even a pull-up bar (I broke down and got a pull-up bar and noticed a substantial difference in results).
P90x has over 1800 reviews on Amazon!
Check it out at the following link: P90X Workout on Amazon
However, for a lot of people,  if the on average 55 minute workouts plus the Ab Ripper routine are a little too much, then the next option, might just be for you.
P90x3 Workout – The Power of just 30 Minutes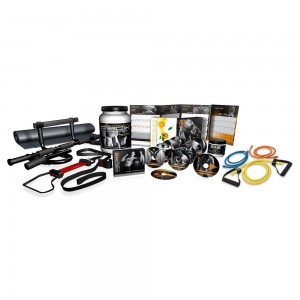 The best thing about P90X3 is that it takes all the lessons from Power 90, P90x, P90x+, P90x2, and rolls them up into a jam packed 30 minute rocket ride to fitness.
Yeah!
P90x3 rocks because it's just 30 minutes. The warm up and cool down times are shorter than the previous incarnations and the workout gets right into it.
The science has advanced.
The experience has advanced.
You're not just doing the same old stretches, there's new stuff that helps to activate the muscles "more better."
There's also less down time explaining things. You catch on quick, and jump right in.
Is P90X3 easier?
No. It's more compact. If anything, it's more intense.
The routines have been refined, and with the variety of workouts, I didn't find myself getting bored of any particular workouts.
Here's what's in P90x3:
Resistance Workouts
Total Synergistics
The Challenge
Incinerator
The Warrior
Eccentric Upper
Eccentric Lower
Power Workouts
Agility X
Triometrics
Decelerator
Cardio Workouts
Core, Flexibility and Balance Workouts
X3 Yoga
Pilates X
Isometrix
Dynamix
The workouts are lively and fast paced. There's also an Elite Block that you can buy separately that includes X3 Ab Ripper, Complex Upper and Complex Lower.
If you get the P90x3 Deluxe or Ultimate Kit, the Elite Block DVD is included.
I got the Base Kit and purchased the Elite Block separately.
The Deluxe and Ultimate kits are needed if you need resistance bands or a pull-up bar (highly recommended by the way.
You can read my more in-depth review of P90x3 here.
So which should you get?
If you have the time. P90x is a great way to start, and then after the 90 days, give P90x3 a shot.
If time is a concern, jump right into P90x3, you don't have to have completed the other workouts, and you can get started right away with P90x3.
Good luck, and get ready to "Bring it!"