Selecting a Gelato Maker doesn't have to be hard because there are 3 gelato machines that stand out from the rest of the pack. The machines below are designed for making great gelato. For an ice cream maker, check out the Whynter Machine.
Below are the best of the best for their features and value.
Starting with #3…
#3 The DeLonghi GM 6000 Gelato Machine
To start off, if price is an issue, you'll love the DeLonghi GM6000 Gelato Maker with Self-Refrigerating Compressor
.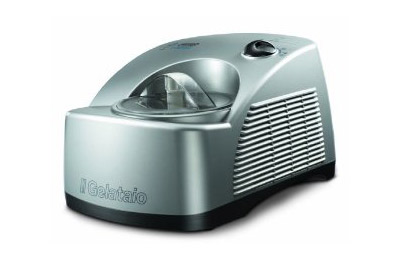 The DeLonghi is specifically made for making Gelato.
That's one of it's most appealing features is that it's not a hybrid ice cream / gelato maker.
For a machine that makes both Ice Cream and Gelato and make them both very well, you have to get into the more expensive price ranges (such as our top two picks).
Coming in at around $299, the DeLonghi is by no means cheap, but less expensive makers just aren't going to produce the quality.
The GM6000 has its own Compressor
Part of what makes the DeLonghi special compared to other less expensive Gelato (or ice cream) makers is that it has its own compressor–it can refrigerate on its own.
Your Gelato can be ready to eat right out of the machine if you like (I think most like serving it in a bowl, but it's up to you).
Instead of waiting 2-3 hours for your delicious dessert to be ready. You can be enjoying your home-made gelato in just 30-40 minutes.
Check out the DeLonghi Gelato Maker in Action
You can find one of the best deals on the DeLonghi with free shipping on Amazon.
Click the link below to view it on Amazon: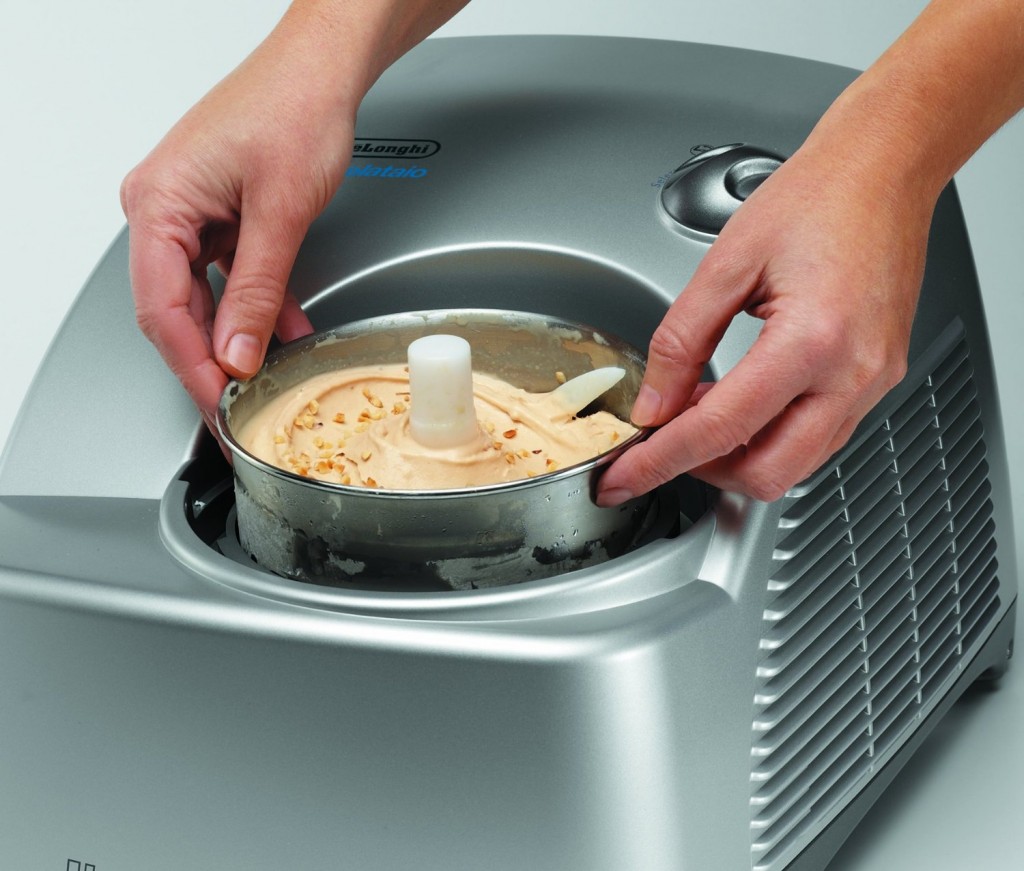 DeLonghi GM6000 Gelato Maker with Self-Refrigerating Compressor
#2 Breville BCI600XL Smart Scoop Ice Cream Machine
Our number two pick is the exquisitely beautiful and very versatile Breville BCI600XL Smart Scoop Ice Cream  and Gelato Maker
.
We love Breville products.
Breville's designs are sleek, elegant, and their equipment is powerful.
The Smart Scoop makes Ice Cream and Gelato.
Normally, the multi-functions don't mix well, but with the higher-end devices such as the revile and the Lello (our #1 coming up), the quality is superb, and the ease at which you can select your options really makes a difference.
The Breville has a simple dial that you turn to select your desired dessert as well as the hardness setting of that dessert.
It almost couldn't be easier.
Catch the Breville Smart Scoop Machine in Action
What makes the Breville Smart Scoop Ice Cream and Gelato Machine impressive?
With its  own compressor, you don't have to place the ice-cream in your freezer!
50 minutes for ice cream which is super fast
1.5 Quart Bowl perfect for making lots of Gelato or Ice Cream
Child lock so kids can enjoy watching without accidentally changing the settings
Pre-cool setting to make things even faster
Keep cool will chill it and churn for up to 3 hours
Recipe book comes with the Smart Scoop
The Breville Smart Scoop is more pricey than the DeLonghi (about $399), but the ease of use, the digital display, child lock features, make the Breville a shining example of beautiful design. Breville makes great working and great looking products.
To see what customers are saying about it on Amazon, click the link below:
View the Breville Smart Scoop Ice Cream and Gelato Maker on Amazon.com
#1 Lello 4080 Musso Lussino Ice Cream and Gelato Machine
If you're super serious about making artisan gelato, then look no further than the Italian made Lello 4080 Musso Lussino Ice Cream and Gelato Machine.
The Lello is the top of the line Ice Cream and Gelato maker.
If you've been to Europe and want to recapture the taste of Gelato from there, the Lussino is the machine that comes out on top.
The Lussino is professional grade and made of stainless steel.
Say goodbye to aluminum!
The mixer blade is made of stainless steel as well whereas almost all other ice cream makers have plastic mixers that can break or wear down.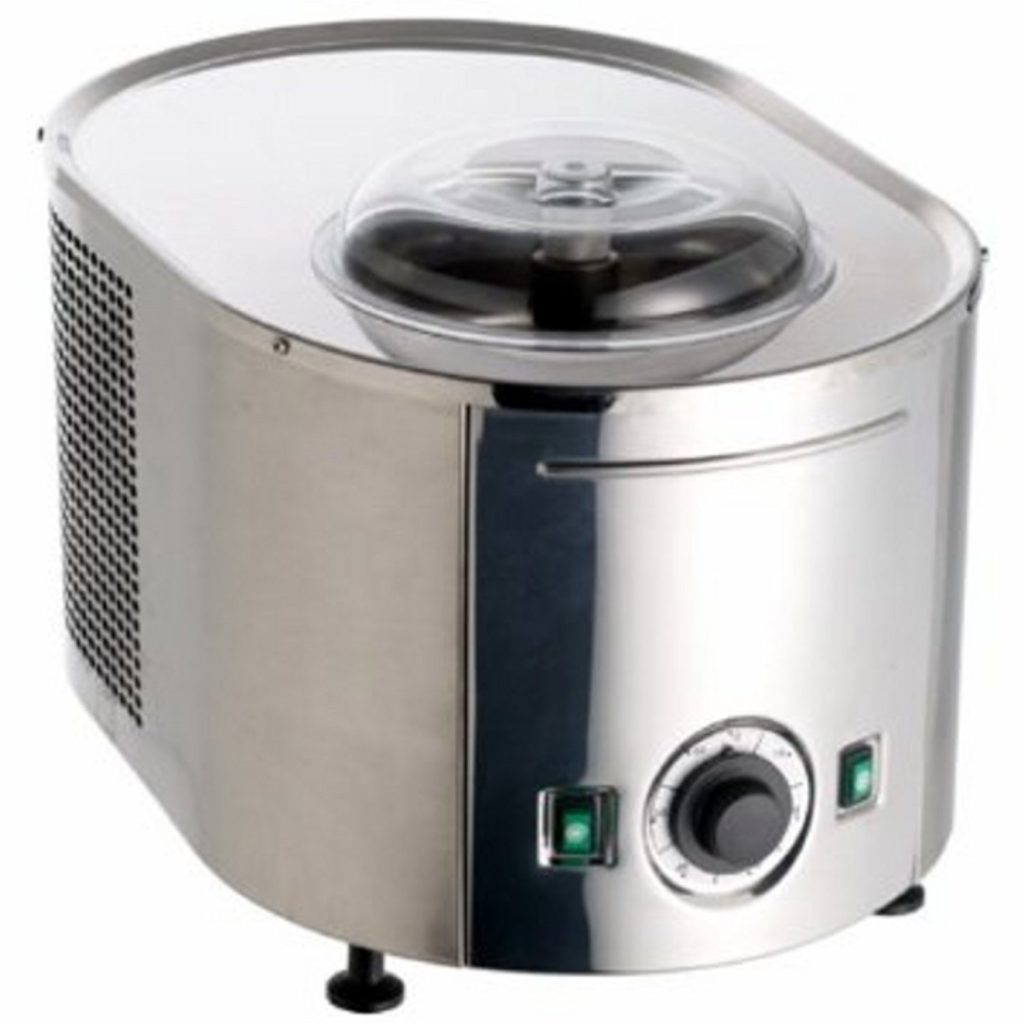 The European design is simple, yet elegant, but it's the taste that matters, and the stainless steal beauty really does make a difference.
One of our favorite Amazon customer reviews for the Musso Lussino Gelato Maker:
If you're considering an Italian gelato machine, then the names "Nemox" and "Musso" come to mind. Both companies fabricate machines for home and professional use, and I've had several over the years. By far, if you are looking for quality and authentic Italian gelato texture and ice-crystallization, look no further than this machine by Musso. It's made better than anything by Nemox (which uses plastic and/or silicone parts that wear down over time.) The Lussiano looks beautiful in your kitchen, makes a fine array of desserts, and will last for years. Trust me though, it won't sit idle.
See the Lello Ice Cream and Gelato Maker in Action
The Lello doesn't come cheap (we're talking around $699), but that's for a reason, the quality of the parts and the taste and texture of the final product speak for themselves.
Recap: Setting the Lello Lussino apart from the Crowd
Stainless steel construction (no aluminum, it really does make a difference in taste)
Stainless steel mixing blade (will long outlast machines with plastic blades, and will keep turning at higher consistencies)
Ease of use (two buttons, one dial)
Large 1.5 Quart capacity
Fast – Done in 30 minutes due to the Self-refridgerating
Long lasting
Elegant design and made in Italy
Makes Gelato that tastes like artisan gelato!
The other beauty is that in addition to Gelato and Ice Cream, you can make frozen yogurt as well.
Read more of the reviews on Amazon for the Lello Musso, and you'll see the difference a professional grade Gelato Machine can make.
Get the "scoop" on the Italian-made Lello Musso Ice-cream Maker: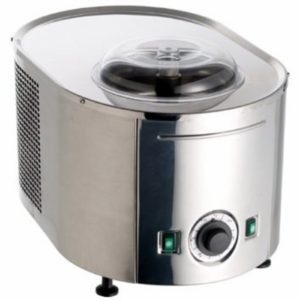 See the Musso Lussino Ice Cream and Gelato Machine on Amazon